Best ever: 5th generation Opel Combo developed to offer leading efficiency
Loading champ: First-class load volume of up to 4.4m[3] and up to 1,000 kg payload
Ingenious for large loads: Cargo space accommodates two Euro pallets
Extra versatile: Short and long versions, crew cab and roof hatch are all available
Top innovations: Permanent Rear View Camera and numerous assistance systems
Connected: Latest generation infotainment with 8-inch touchscreen
Passenger car comfort: Heated steering wheel, unique in the segment, along with heated front seats and dual zone climate control
Available soon: World premiere and start of sales in September

Opel announces the 5th generation of its compact, multifunctional commercial vehicle, the Combo. The new Combo cargo van has been developed with the ambition of offering top efficiency to professionals and the lowest cost of ownership in the segment thanks to an all-new architecture, ingenious packaging and unique technologies while simultaneously representing a huge leap compared to outgoing version. With its world premiere at the IAA Commercial Vehicles in Hannover on September 19th, 2018, and available to order from September, the new Combo offers a wide range of variants to choose from including a short version with 4.40 metres length, a long version with 4.75 metres, both with cabins featuring two or three front seats, and a spacious five seater crew cab. Opel's new compact transporter also outshines most of its main competitors with a load volume of up to 4.4m[3], a payload of up to 1,000 kg and a loading length of up to 3,440 mm for objects and work material. An especially ingenious feature is that the distance between the two wheel arches is wide enough to enable the loading of Euro pallets, two of which can even be accommodated in the cargo space of the short version of the Combo, plus oversized materials such as wooden planks can be stowed at an angle thanks to the optional roof hatch.
A unique feature in the segment is also introduced in the new generation Opel Combo: a sensor-based overload indicator[1] that, at a press of a button, allows the driver to make sure the vehicle is not overloaded. The system automatically measures the mass present on board upon starting up the engine. Alternatively, the driver can ask for the sensor-based system to measure the load on the axles by pressing a button. A white LED signal lights up if the weight exceeds 80 per cent of the permitted payload. If the weight is above the limit, an orange signal with an exclamation mark lights up.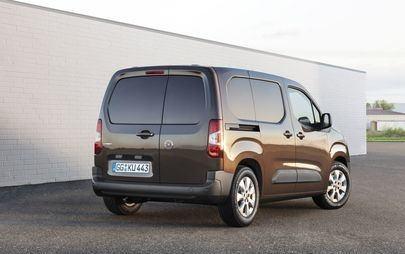 In addition, the new Combo comes with further innovative technologies and up to 19 assistance systems that make driving, manoeuvring, transporting goods or a crew easier, safer and more comfortable. The optional Permanent Rear View Camera[1], acts as a "digital" rear view mirror - greatly improving visibility of panel vans or of fully loaded vehicles. Furthermore, a second camera in the exterior door mirror on the passenger side ensures that the driver no longer needs to worry about the blind spot on this side of the vehicle. The new Combo can also be equipped with the new, sensor-based Flank Guard[2] system that helps prevent annoying and expensive bumps or scratches when turning at low speeds, warning the driver when there is a risk that a flank of the car will collide with an obstacle. For those professionals working in conditions which may require enhanced traction in mud, sand or snow, they can also upgrade their front-wheel drive Combo with the electronic IntelliGrip traction control system and the "worksite" set-up. This includes an increased ground clearance of 30 mm, front and rear stiffness antiroll bars, increased tyre diameter and rear variable rate springs. And the optional ultra-modern Apple CarPlay and Android Auto infotainment systems ensure that drivers easily find their way to and from even the most remote locations.
"The Opel Combo is the ideal working companion and almost no job is too big for it thanks to its best-in-class load volume. In addition, it comes with ultra-modern technologies previously only known from the passenger car segment. This make the Combo a commercial vehicle with proven passenger car qualities in terms of driver assistance, safety and comfort – an all-rounder in the best sense of the word," said Managing Director Sales & Marketing Peter Küspert.
Loading capacity of a larger vehicle: The Combo as a multifunctional transporter
The Combo nameplate has been a synonym for compact, multifunctional transporters for professionals over 4 generations since 1986. The first generation was based on an Opel Kadett, the two next on the Corsa models of the time and the fourth was the result of a joint-venture with Fiat. The new, fifth generation has been developed on a completely new architecture within Groupe PSA, the undisputed European leader in the commercial vehicle business. Therefore, it is no surprised that it comes as the most competent vehicle on the market place.
It is available in various variants allowing countless applications:
A 4.40-metre long short version with a wheelbase of 2,785 mm, payloads of up to 1,000 kg and a cargo volume of 3.3 to 3.8 m[3], in which utensils with a length of up to 3,090 mm can be stowed easily. Those who need even more space can order the Combo with rear swing doors and the useful roof hatch. The latter enables the transport of items weighing up to 100 kg at an angle without having to leave the rear door open.
A 4.75-metre long XL variant with a wheelbase of 2,975 mm and a load volume of up to 4.4 m[3], that can even take working equipment with a length of up 3,440 mm.
Being able to easily load bulky items through the rear doors with a low loading edge of just 557 mm is another major advantage. There is enough space between the wheel arches for a forklift to load two Euro pallets, even into the shortest Combo. And safety has also been taken into consideration: Six tie rings on the floor and a further optional four fitted at mid-height help keep everything in its place.
The new Combo also offers a solution for transporting people and equipment with the crew cab version. A crew of up to five including the driver can sit in comfort while the working material is safely stowed behind the partition wall.
Relaxing drive: Top technologies and passenger car comfortWhen it comes to the loading area, the Combo is a true commercial vehicle but it also offers cutting edge technologies unique in the segment, plus a level of comfort directly inherited from the Combo Life passenger version which launched in early June.
The newcomer comes with further ultra-modern driver assistance systems known from the Combo Life passenger version:
Forward Collision Alert with pedestrian detection and Automatic Emergency Braking[3]
Lane Keep Assist
Hill Descent Control
Intelligent Speed Adaptation & Automatic Cruise Control
Driver Drowsiness Alert
Speed Sign Recognition
Last but not least, the new generation of infotainment systems ensures outstanding on-board connectivity. The Apple CarPlay and Android Auto compatible Multimedia Radio and Multimedia Navi Pro systems can easily be controlled via the prominent 8-inch colour easy-to-read, easy-to-reach touchscreen.
Just like its passenger car sibling, the Combo will be able to draw upon a range of lively and efficient engines combined with modern transmissions. Together with first-class load volume, comfort levels similar to those in passenger cars and extensive on-board entertainment, they make the new Opel Combo an ideal general purpose commercial vehicle for much more than just working life.
---
[1] Expected to be available from 2019.
[2] Active at speeds below 10 km/h.
[3] Works automatically above 5 km/h and below 85 km/h. From 0 to 30 km/h the deceleration metric to reduce the impact speed of the collision is 0.9g. From 30 to 85 km/h the system brakes to the speed by a maximum of 22 km/h. After this threshold, the driver needs to brake himself to reduce the speed even further.